Retail Fuel and LPG Prices for month of February 2023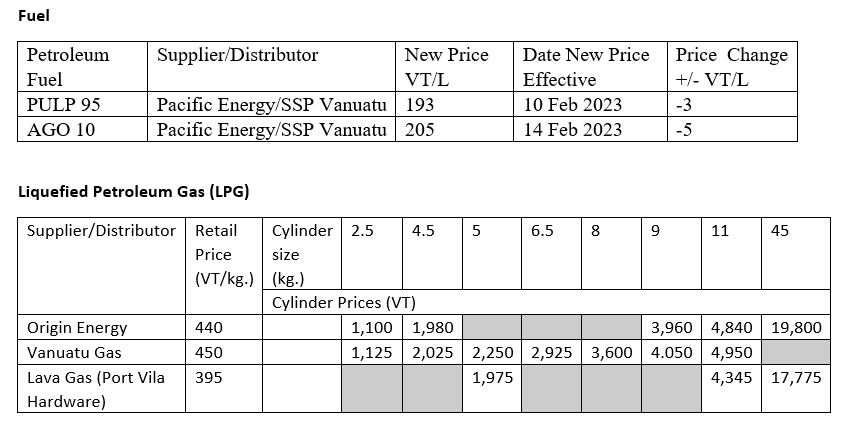 FUEL PRICE UPDATE
The Premium Unleaded Petrol 95 Octane has dropped back to 193 VT/l from 196 VT/l. The retail price of PULP 95 effective 10th February 2023 is 193 VT/L.
The Auto Gas Oil 10 ppm sulphur will drop by 5VT/L from 210 VT/l to 205 VT/L. This retail price of AGO 10ppm of 205 VT/L will take effect on the 14th February 2023.
The price changes are consistent with the FIFO stocks movement for SSP Vanuatu (Pacific Energy).
LPG PRICE UPDATE
The Origin Energy is selling the Liquefied Petroleum Gas (Propane) at a retail price of 440 VT/kg with a deposit of 6,500 VT on the cylinder of capacity 2.5kg, 4.5kg, 9kg and 11kg. The 45 kg cylinder has a deposit cost of 12,270 VT.
The LPG retail price at Vanuatu Gas is 450 VT/kg with a deposit of 5,115 VT on the cylinder of all sizes from 2.5kg, to 11 kg. Vanuatu Gas also delivers around Efate Island.
The Port Vila Hardware (known as Lava Gas) sells LPG at a retail price of 395 VT/kg. The price of a 5kg cylinder is 3,790 VT, 6,645 VT for the 11kg cylinder and 16,385 VT for the 45 kg cylinder. For refills only, the retail price for 5kg is 1,975 VT, for 11kg is 4,345 VT and for 45 kg is 17,775 VT.
If you need further information, please do not hesitate to contact the Department of Energy on phone 25201/33425 or email This email address is being protected from spambots. You need JavaScript enabled to view it..