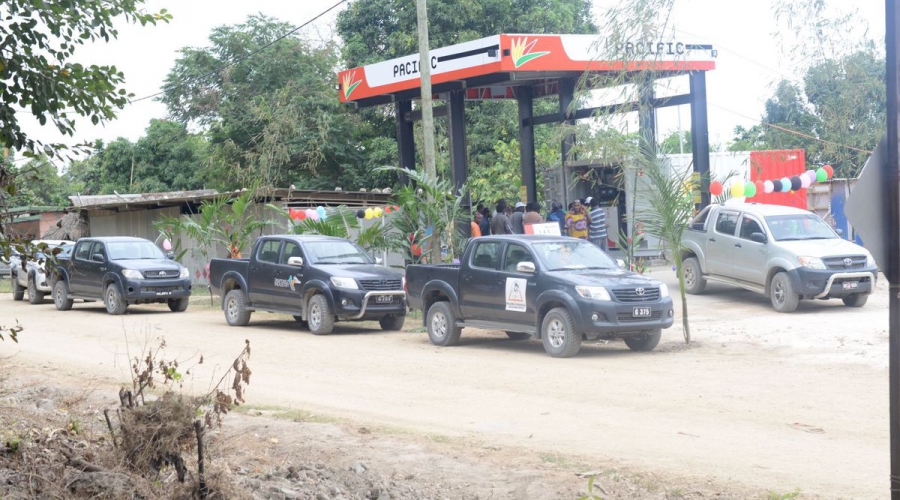 Pacific Petroleum Company, the sole petroleum importer in Vanuatu,launched its first fuel service station outside the main urban areas at Litzlitz on Malekula on Saturday.
Starting this year, vehicle drivers on Malekula and Tanna will be receiving a decrease of between Vt38 to Vt68 a litre for diesel. The price for benzine also matches the urban cost, which is Vt145/liter.
The General Manager (GM) of Pacific Energy, a subsidiary of the Pacific Petroleum Company, Nicolas Leflon, said the company is working hard to bring clean,affordable and modern energy to rural communities. The company plans to construct another small terminal on Malekula at Lakatoro and three other fuel service stations on Tanna, including storage facilities on ground for safety stock. All stations are expected to be installed next month (October) and hopefully, will extend to other islands too.
This will change the face of rural fuel distribution in Vanuatu.
Fuel prices are very in rural areas where fuel stations do not exist. The absence of reliable fuel is a challenge in the rural areas in Vanuatu. Its very expensive to meet the cost of transporting fuel.
Operators on Malekula buy Vt2, 000 to shipped just one drum of fuel from Santo and often, they run out of fuel due to delays and cancellations. Drivers on Malekula can now fill trucks up at the fuel station at Litzlitz with a modern fuel pump like in Port Vila. The same thing will happen on Tanna. These infrastructures can store enough fuel for weeks and months to meet the needs of consumers. For example, the fuel station at Litzlitz was installed with two storage tanks-one that can hold 17, 000 liter diesel and another one with up to 7,000 capacity of petrol. It cost the company Vt150million to invest in this rural energy project both on Malekula and Tanna, according to GM Leflon. "These two islands contributes to 75% fuel in the outer islands," said GM Leflon.
"The project is expected to save Vt100million fuel cost on each islands and the money can be spend on other community needs as education,housing, health and food". After many years of operating in Vanuatu, Pacific Energy is now targeting improved fuel supply to outer islands, an agenda of the Vanuatu Energy Road Map. The company wants to change the way fuel is supplied to communities-by bringing in a much safer equipment instead of drums which in case of leakage and spill is very risky to people's health and environment, said GM.
GM Leflon assured the company's commitment to the Government's target of reducing the cost of distributing petroleum product by 15% in 2030.  The project on Malekula is only realized through the landowner's willingness to give land for development, trust and relationship established between Pacific Energy and the Dennilson Trading. A delegation from Port Vila led by the Minister of Internal Affairs, Alfred Maoh, and Minister of Energy Ham Lini attended the Litzlitz Fuel Station opening.
Source: Vanuatu Daily Post