The Ministry of Climate Change, in partnership with UNDP and Power-Blox AG, an award-winning Swiss company providing automated and decentralized electricity solutions, has successfully completed the first phase of a feasibility study for powering Lelepa island in Shefa province.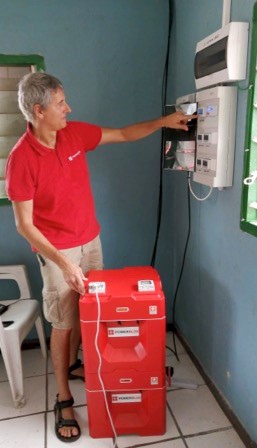 Paramount Chief Reuben Natamatewia of Lelepa island has good reason to smile. His community of roughly 100 households was selected for the first-ever swarm grid trial in Vanuatu. In the initial phase of the pilot project, five community buildings are now powered with three power-storing cubes with a capacity of 200 watt each.
Solar power is collected with roof panels that are connected to the cubes. "Easy, locally feasible maintenance is essential when it comes to electrifying Vanuatu's off-grid communities, especially on the outer islands," Power-Blox CEO Alessandro Medici says. "Our patented, innovative technology ensures that electricity supply is growing according to demands by simply adding additional units.
Also, since there is no master-slave relationship between the cubes, a failure of one cube will immediately be compensated for by other units in the system. This so-called swarm grid ensures that full system outage is impossible."  Working with local power and communications provider PCS Limited, Power-Blox installed the cubes at the end of September in Lelepa, thus providing electricity to the church and four community buildings. "Once our village is fully electrified, our lives will be so much easier," says Chief Reuben. "We will be able to refrigerate and process our daily fish catch, so we don't have to hurry over to the mainland with our everyday bounty. It will be possible to power the pump for local drinking water supply from the bore well, so that we don't have to fetch water from the mainland. The schoolteachers and students will be able benefit from the copying machine and printer. The sewing machines in the Mama's house already run off the electricity supplied by the cubes, allowing our ladies to be more profitable in their handicraft production." With the ultimate goal of providing solutions for the electrification of off-grid islands across the nation, the Ministry of Climate Change has selected Lelepa for this pilot project. "Our challenge is to electrify communities where households are far from each other. It seems that the power blox can be a solution to this, and we are waiting to see if we can scale this innovative solar-powered approach across other islands of Vanuatu," Antony Garae Liu, Director of the Department of Energy at the Ministry of Climate Change says.  Lelepa is currently running on a supply of approximately 600 Watt, but by the end of the project, the swarm grid will provide around 10 Kilowatt of electricity. The power cubes provide a much more cost effective and climate-friendly solution than the fuel-powered generators villagers used earlier to satisfy their basic electricity needs.