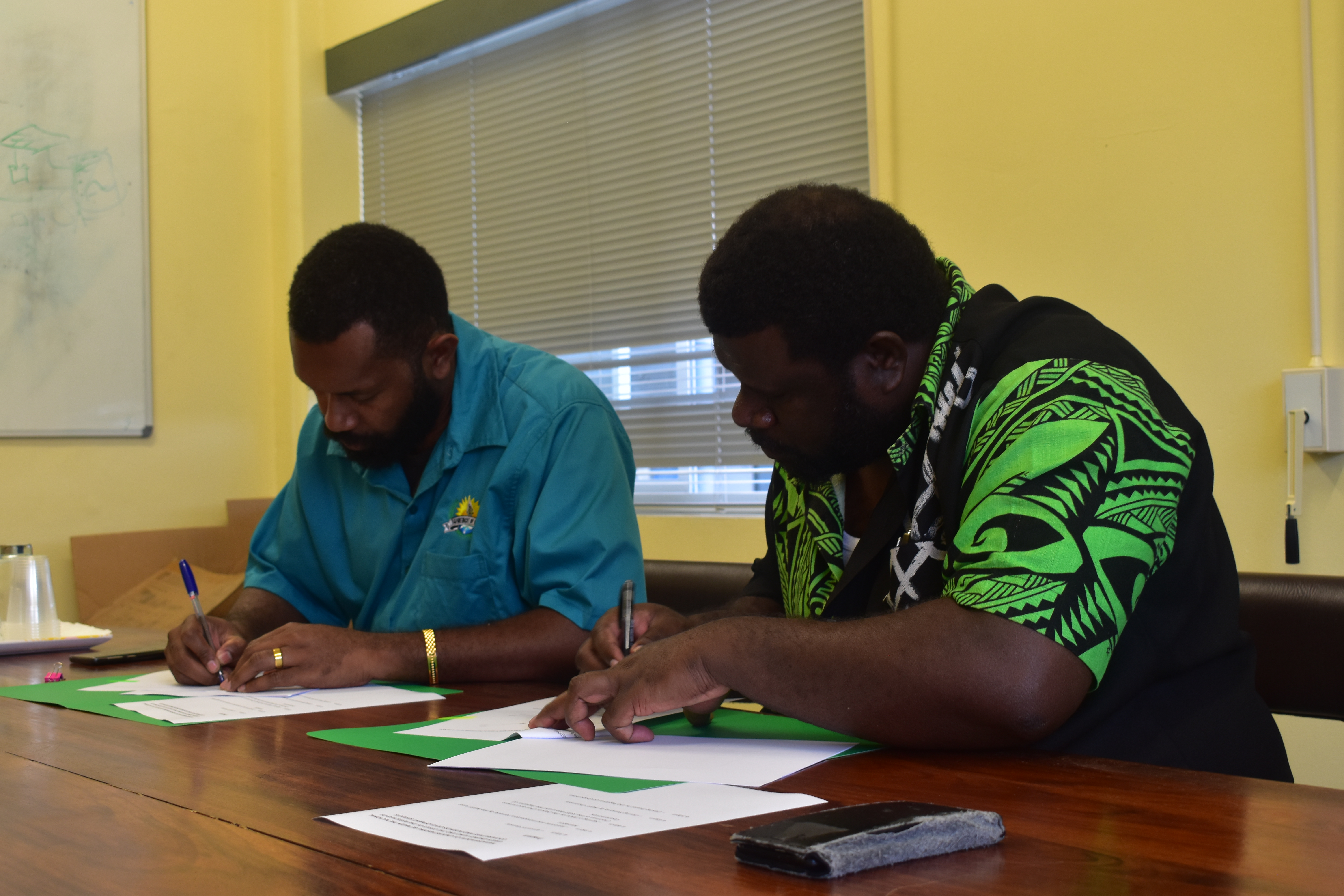 On Wednesday, November 6th 2019, the National Green Energy Fund witnessed a milestone achievement in signing a Memorandum of Understanding with the Office of the Registrar of Cooperative and Business Development Services to assist the facility in delivering its financial product through the Vanuatu Cooperative Movement.
For an efficient and effective delivery of such financial products to the rural areas, government line departments and agencies with presence and existence since independence in the six provinces must work together to support existing financial and non-financial institutions of the NGEF.
The Chairman of the NGEF Board who is also the Director of the Department of Energy, Antony Garae reiterated as policy makers of the government and service providers to the people of Vanuatu, the MoU represents good working partnerships between the two government institutions to enable further service delivery in terms of energy accessibility, affordability and sustainability. "Thank you to the Director of the ORCBDS for agreeing to be part of the MoU and as Chair of the NGEF board, I look forward to partnership and other opportunities that may arise," he said. The Director of ORCBDS, Ridley Manassah applauded NGEF and pledged the support of his office towards the NGEF implementation. "There will never be enough resources and with collaborations such as this will always result in success stories for both the government and its people- we look forward to working together and thanked NGEF for realizing ORCBDS to help achieve its targets," he said.
The NGEF is in its 14th month of operations after the Hon. Ham Lini Vanuaroroa, Minister of Climate Change, formally launched it on August 29th 2018. The development of the NGEF was financially and technically supported by the Global Green Growth Institute (GGGI) since 2015 upon request from the Ministry of Climate Change. It was one of the very first 'National Financing Vehicles' developed by GGGI in collaboration with Government of Vanuatu. The Fund's primary objective is to provide financial means to extend electricity access generated from clean renewable energy (RE) sources plus facilitate more energy efficient (EE) end-use to all citizens of Vanuatu. The Fund is a homegrown financial mechanism to support the Government of Vanuatu in achieving its updated National Energy Road Map (NERM) targets by 2030.
The NGEF Board represented by the government and civil society organizations oversees the administration and the operation of the fund. To date, the Fund was able to publish its first annual report for 2018 and was successful in attracting pilot funding from the Government through the endorsement of a pilot funding that was transferred from the Luganville Electricity Management Contract to the Fund. This pilot fund is assisting public institutions, small businesses and households to access credit at concessional rates to invest in renewable energy including energy efficient and green growth projects in the last mile of both the off-grid and grid population of Vanuatu.