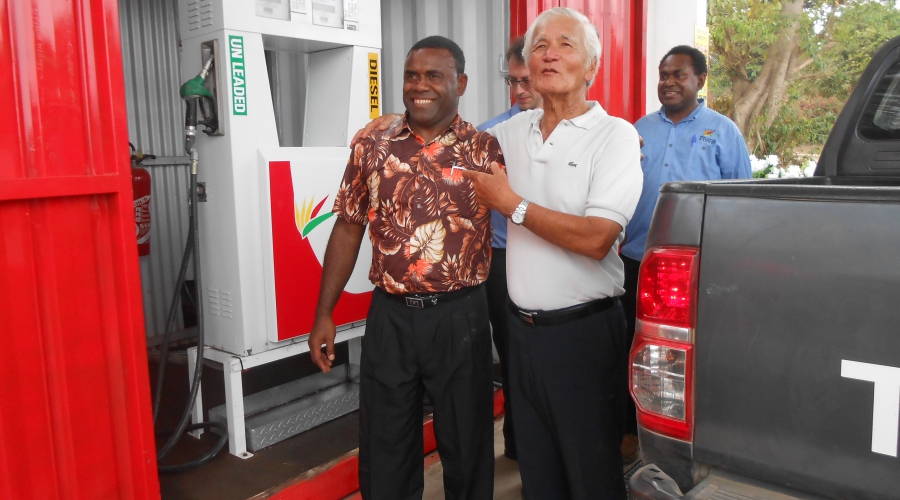 When Tannese want to celebrate their achievement, they mean business which explains why at 1.30pm yesterday, Louanatom Villagers on the road to White Grass Airport were still dancing to a live band to celebrate the first fuel station to open on Tanna in their village, followed by two more at Lenakel.
Minister of Internal Affairs and Local Authorities, Alfred Maoh and Tahitian Chairman of Pacific Energy, Albert Moux jointly opened the first fuel stations of its kind on Tanna after the first station was opened at Litzlitz on Malekula last month.
The achievements have arrived on the two islands because the owner of Pacific Energy says as an islander himself; he understands the challenges in the islands of Vanuatu faced by vehicle owners and drivers regarding fuel. The Chairman of Pacific Energy said, "I want to prompt a kind of revolution by way of helping you to conduct business selling fuel at an affordable cost". Lively custom dances sent clouds of yellow dust into the air as custom chiefs and their men and women swayed to the humming sounds from deep within as they swooped in then jumped back and clapped their hands and went round and round like a slow-motion whirlwind.
All three ceremonies began with custom dancing. The chiefs from each area explained, "We welcome you all with custom dancing because it is our message to you that we appreciate what you have come with and we welcome you to our nasara". Minister Maoh assured them that with the opening of the stations yesterday, the cost of fuel on Tanna is now the same as in Port Vila.
In other words a Vt1,000 worth fuel now costs Vt500 for the same volume. In his address, the Minister said unlike what people often complain that 'hemia binis blong waet man', the difference this time is that all three fuel stations are owned 100% by indigenous Tannese owners and their families.
Pacific Energy merely supplies the fuel and helped to set up each fuel station but leaves the entire ownership and management in the hands of the three Tannese owners.
Also another advantage is that all three fuel stations have been built to international standard to abide by international legal obligations. The fuel machinery were all shipped direct from Spain and the containers were opened on Tanna.
In addition, Minister Maoh praised Pacific Energy for implementing the Government's Energy Road Map and setting up on Tanna. "This is the best example of literally translating the word 'decentralization' down to Area Council level in a Province," the Minister said. Contrary to concerns that the stations would put out the current ten small fuel operators, he assured all small roadside fuel operators that they can now operate without having to worry about ordering drums of fuel from Port Vila because they can now buy from the local depot at Louanatom.
Custom chiefs have joined the Minister to advise the small operators not to overcharge their customers. Depending on the business climate, the Pacific Energy Chairman said he is returning to Tanna next year with a possibility of setting up another fuel station on Tanna.
Source: Daily Post Vanuatu