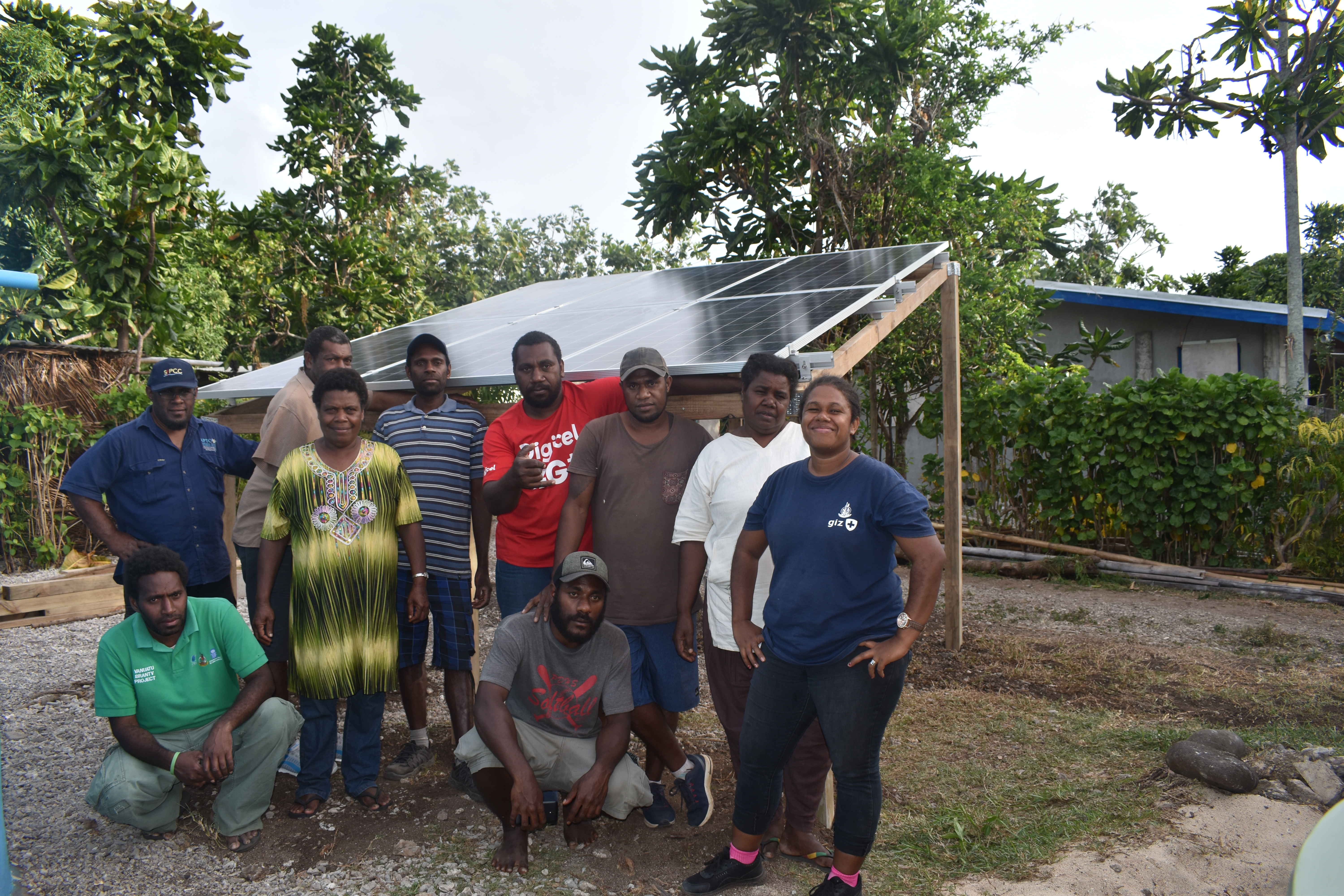 About 21  trainees of Level 4 – Train the Trainers training on design and installation of Photovoltaic (PV) Solar system have successfully carried out a demo installation of a Community-Scale PV Solar system at Utanglangi village on the island of Nguna on November 1st, 2019.
The demo installation was part of a practical component after three long weeks of theory in solar photovoltaic at the Vanuatu Institute of Technology (VIT). Trainees were excited to do the demo which was one of the first ever solar project of its kind for the community of Utanglangi.Teams were assigned with different tasks where both women and men engaged in doing electrical wiring of the system from an existing building to the community shelter used for meetings and activities. While others constructed the support and built in Solar panels as the final part of installation.
Two Pacific Vocational Training Centre trainers and facilitators, Mr. Wade Evans and his colleague Mr Stephen Mataitini, supervised all the works.The challenges were real for rural community development with firstly two hours boat ride on rough seas from the main land (Efate) to Utanglangi an experience of what the community of Utanglangi face daily. The trips were made possible with two boats transported trainees and the trainers and another two boats transported materials to the site.The successful installation of BRANTV demo site at Utanlangi was both a milestone for the project for its first demonstration of a Community-scale PV Solar system and for the community to receive a first ever Government project to provide a large scale energy source that will provide lightings and meet other essential needs for families and communities.
A proud hardworking mother by the name of Dorothy expressed their gratitude of such initiative for their somewhat isolated community."This is the first project from the government for our village and we are impressed because this solar system will enable us to cater for bigger needs for this village such as bigger space on cold storage for fish to sell at the market and using a bigger sound system as entertainment during celebrations," she said."Almost every household in the community have their own solar systems but then it's only used for lighting and cannot be used for any other electrical equipment that consumes higher energy supply.
Now mamas can use the light from this new system to do night activities such as fundraising and weaving-it's a milestone for our community."To show their appreciation, the Chief and the community of Utanglangi presented the SEIAPI trainers and trainees with mats and treated them to hearty lunch."We want to say thank you to BRANTV and the DoE for realising our need and an opportunity for our community thus making it a first for our side of the island. It has been a successful demo and a milestone for this village," Chief Api said."Thank you for choosing Utanglangi for the demo installation and we're looking forward for further close cooperation with you in the near future."The 'Level 4 Certification' training workshop is being resourced by trainers from the Sustainable Energy Industry Association for the Pacific Islands (SEIAPI).PV Solar training and demonstration of a Community-Scale PV solar system is funded by UNDP through GEF funds to support the Government of Vanuatu to achieve the National Energy Road Map (NERM) targets and build local capacity to be able to install, operate and maintain community PV Solar systems.