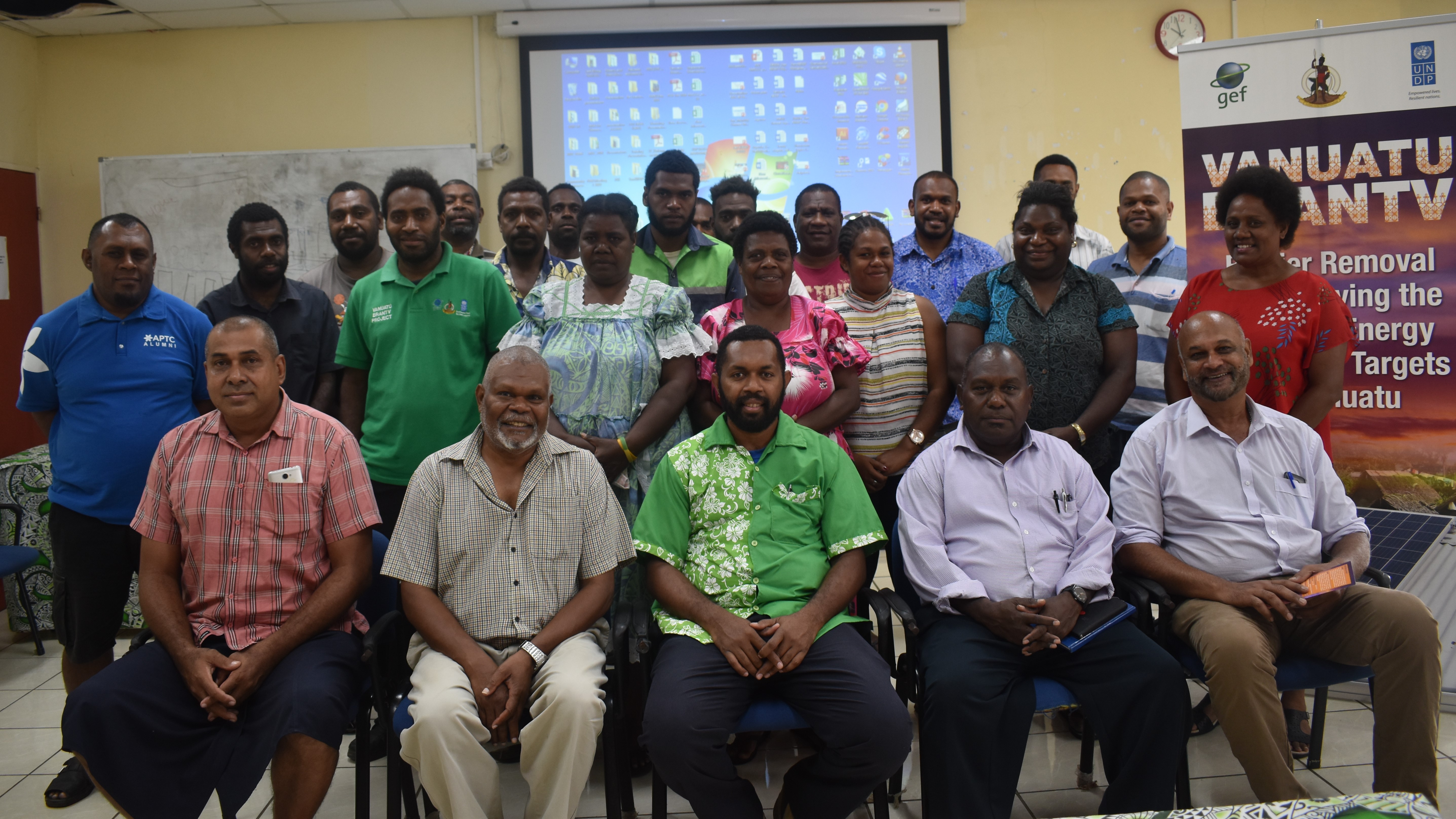 The Barrier Removal for Achieving the National Energy Road Map Targets of Vanuatu (BRANTV) project has officially launched the train-the-trainers' workshop for solar photovoltaic (PV) technicians in Vanuatu. The workshop is conducted in close collaboration with the Pacific Vocational Training Centre (PVTC). The 'Level 4 Certification' training workshop is being resourced by trainers from the Sustainable Energy Industry Association for the Pacific Islands (SEIAPI).
The workshop was officially launched by the Director of Energy, Antony Garae who stated in his opening remarks that one key barrier to renewable energy is the maintenance of renewable energy (RE) systems in the rural and remote areas in Vanuatu. "One of the main challenge faced by the energy sector is the RE implementation at the rural level and the management of energy projects in the islands of Vanuatu," he said. "The sustainability of these projects will be proved right after the three weeks of the 'train the trainers' workshop and it is good to also see the women participation which shows that we are addressing gender inequality when it comes to certain jobs that are commonly regarded as men's."
Director Garae encouraged the participants to learn as much as possible so they are able to carry out maintenance and repair works and extend the application of RE technology in their respective communities. The launch was witnessed by members of the private sector, technical institutions and the Vanuatu Qualification Authority CEO who values the importance of promoting and engaging in RE training that are accredited by VQA. Participants were selected from the private sector, Vanuatu Institute of Technology (VIT), the Rural Training Centres (RTCs) from six provinces, staff of the Department of Energy and the Solar Mamas Association.   
The SEIAPI Solar training facilitator, Wade Evans who is also a trainer at the PVTC, stated that the workshop targets technical institutions and Rural Training Centres (RTCs). "This workshop will train the participants to design right from scratch to knowing how to determine the size of a solar PV system and installation of the system according to Australia/New Zealand standards," Evans said. The SEIAPI PV solar training workshop is for three weeks at the VIT in Port Vila and will consist of theory and practical training. The BRANTV project aims to enable the achievement of the energy access, sustainable energy, and green growth targets of Vanuatu, as represented in the country's National Energy Road Map 2020 and 2030 targets. The project is funded by the Global Environment Facility and implemented by the Department of Energy with support from the UN Development Program.