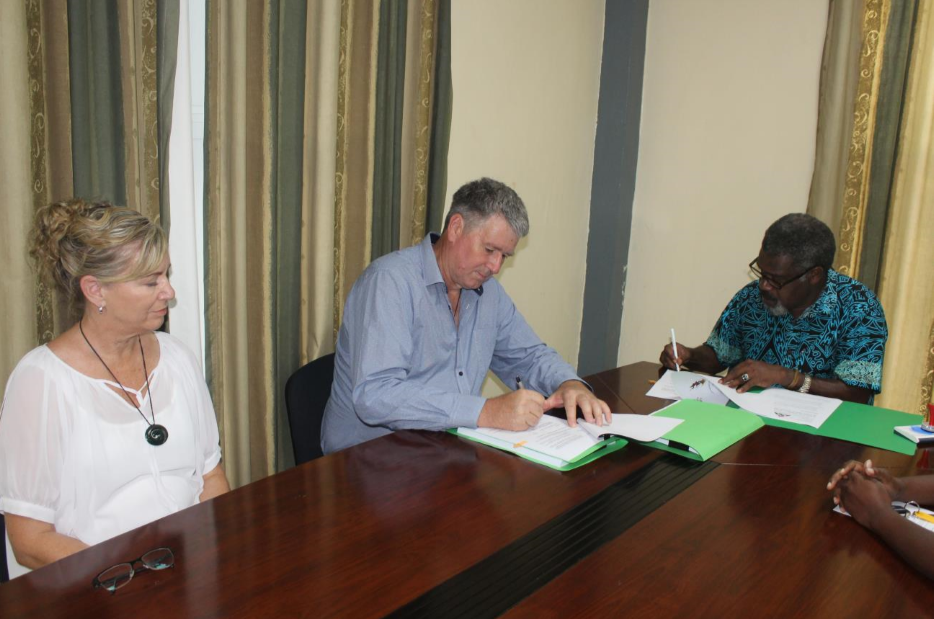 PORT VILA, 23rd January 2020 – The Government of Vanuatu has signed the contract for the construction of the Brenwe Hydro plant under the Vanuatu Energy Access Project (VEAP) with the New Zealand joint venture, MAPs/Vortex.
Following the signing – conducted on Tuesday 21st of January, hours before the Vanuatu parliament was dissolved, the company promised to deliver the project within schedule.
MAPs/Vortex JV's successful bid was announced in November 2019, following a highly competitive bidding process that commenced early in 2019 – running until June, when the bids were eventually opened publicly, and then evaluated through an independent process.
The first part of the project will see construction of a 400kW run-over-river hydro-power plant at a 30 hectare property acquired by the Government within Brenwe.
Minister for Climate Change, who was also Minister responsible for energy matters, Bruno Leingkon signed the contract on behalf of the Government, while Mark Prater of MAPs Projects represented the joint venture company at the signing.
The out-going minister was truly pleased that the project could be signed off before dissolution; or the project would have had to be delayed further.
The value of the contract is US$5.84 million (approximately Vt700 million), funded jointly by the Asian Development Bank (ADB), Strategic Climate Fund and the Vanuatu Government.
Mr. Prater thanked the Government for its confidence, and promised to deliver the project successfully.
The second phase of the project – which will be procured through a separate tendering process, will see distribution of grid extensions on Malekula to villages in and around Brenwe, Unmet, Leviamp, Lambumbu and Laravet.
Vanuatu Project Management Unit are providing management oversight of the project, in close collaboration with the Ministry of Climate Change and the Department of Energy.
Ends/…
For any enquiries, please contact Vanuatu Project Management Unit (VPMU) Vila Mall Building, Rue de Paris, PO Box 192, Port Vila, Tel: (678) 33240. Email: This email address is being protected from spambots. You need JavaScript enabled to view it.